Common Low Back Problems-and How to Fix Them!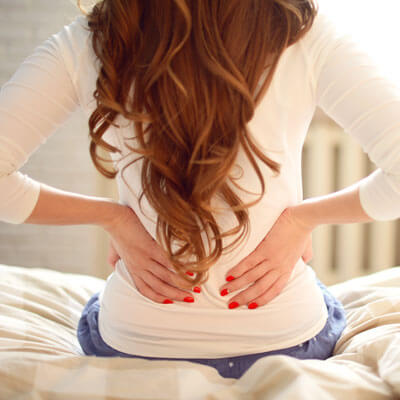 Whether you're experiencing newfound back pain, or have been living with a nagging back injury for years, we're here for you.
At Mills Chiropractic & Wellness Center, we've worked with thousands of patients just like you, and can't wait to help you get back to living your best life, naturally.
Injuries We See Often
Some of the most common causes of low back problems are a result of disc injuries, facet injuries, lumbar strains and even failed back surgery.
Disc Injuries: Over time, our discs can wear down, creating added pressure on our nerves. This can lead to imbalance, inflammation, dysfunction, and pain. Patients with disc injuries often experience improvement from adjustments, cold laser therapy, and rehabilitation.
Facet Injuries: Often a result of quick movements, the small joints along the sides of spine can become jammed and misaligned, creating pain discomfort. Resetting the joint with adjustments often provides fairly quick relief for patients dealing with this type of problem. We may also look at cold laser therapy to address inflammation in the area.
Lumbar Strains: This type of injury tends to result from repetitive micro-traumas, like constant heavy lifting, or too much sitting. We often recommend rehabilitation exercises for lumbar strains to help strengthen weak areas so that the spinal bones, muscles, and ligaments can handle the load better, and stay in alignment longer.
Failed Back Surgery and Post-Surgical Back Problems: We welcome patients who are experiencing post-surgical back pain, and can even work with your medical team to approach your care wholly. We've had patients get results through a combination of modalities, including adjustments, rehabilitation, lifestyle coaching, and more.
How We Can Help You
At our practice, Dr. Mills has an incredibly large "toolbox" of techniques and skills to pull from when it comes to helping people like you. He also follows the leading research and best practices in chiropractic to ensure you get the results you're seeking.
We'll begin by learning more about your injury and dive deep to uncover its root cause. Then, we'll make our recommendations for care, which may include adjustments, rehabilitation, stretch therapy and even lifestyle or nutritional changes. We believe in taking a well-rounded approach to your care, which will help you stay better for the long haul.
Schedule Your Appointment
If you haven't gotten results elsewhere, look no further. We'd love to see you in the practice to learn more about your health challenges and develop an actionable plan to get you feeling your best.
If you'd like to learn more about how we can help you overcome low back problems, contact us today to book your first appointment. We can't wait to welcome you into our care.
Get started today!
CONTACT US »

Common Low Back Problems Olathe KS | (913) 764-5900